ECE News Spring 2012:
Professor Scott Acton Develops Sinkhole Risk Technology
---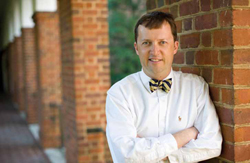 Professor Scott Acton is leading a federally funded project to develop a suite of software tools that will enable transportation engineers to mitigate the impact of sinkholes, structural defects in road bridges, and landslides on major roads. U.Va. is partnering with the Virginia Center for Transportation Innovation and Research and TRE Canada to develop the software that will soon be commercially available to state departments of transportation across the United States.

The project uses remote sensing technology that takes repeated satellite images of the earth's elevation. The sensors can detect changes in elevation down to a quarter of an inch. The technology combines interferometric synthetic aperture radar supplied by TRE Canada and novel image analysis algorithms developed by Acton's lab. Two ECE graduate students, Andrea Vaccari and Mike Stuecheli, are developing the software that will highlight the regions of potential risk. Their software will interface with popular display methods, such as typical geographical information systems (GISs) and Google Maps.

The project reflects several goals of the School of Engineering and Applied Science's Strategic Plan, including increasing its research impact and preparing graduates for leadership.

The project initially will focus on a region of the Interstate-81 corridor plagued by sinkholes, while researchers develop the software for analyzing the images.

"This is the first time we've been able to predict sinkhole collapse," said Acton. "If we determine that we can use remotely sensed data to detect and monitor the subsidence that precedes sinkholes, bridge settlement and landslides, we can potentially save millions in highway repairs, reduce highway closures and enhance the safety of travelers."