Scott T. Acton
Professor and Director, VIVA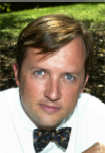 Contact
Rice Hall 311
351 McCormick Road
PO Box 400743
Charlottesville, VA 22904-1000
Phone: 434-982-2003
FAX: 434-924-8818
Email: acton@virginia.edu
---
Summary
Scott Acton is Professor of Electrical & Computer Engineering and of Biomedical Engineering at the University of Virginia. He received his M.S. and Ph.D. degrees at the University of Texas at Austin. He received his B.S. degree at Virginia Tech. He is a Fellow of the IEEE.

Professor Acton's laboratory at UVA is called VIVA - Virginia Image and Video Analysis. They specialize in biological image analysis problems. The research emphases of VIVA include tracking, segmentation, representation, retrieval, classification and enhancement. Professor Acton has over 250 publications in the image analysis area.

Professor Acton serves as Editor-in-Chief of the IEEE Transactions on Image Processing.
Research:
Image and Video Processing, Biomedical Image Analysis, Biomedical and military tracking problems, Content-based image retrieval, Diffusion algorithms, active contours, Image morphology and scale space.
See VIVA home page for updated information on the VIVA research.
Most Recent Publications:
See Google Scholar for updated information.