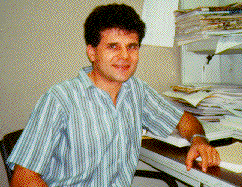 I am an associate professor in the ECE Department, at the University of Virginia in Charlottesville.
GLSVLSI 2003 general chair

IEEE Computer Special Issue on Power-Aware Computing (pdf)

ICCD 2003 technical committee member

SOC 2003 technical committee member

SCS 2003 reviewer

Current Courses:
Research interests:
Nanoelectronic circuits - Research in molecular electronics sponsored by NSF, UVa.

High-Performance Low Power (HPLP) VLSI laboratory - Research in low power high performance VLSI sponsored by Intel, IBM, NSF, etc.

Low-power VLSI - NSF CAREER award for Advances in Theory, Design Methods, and CAD for Low-Power VLSI.

Low Power Circuits with Reduced Leakage - funded by Intel MRL, Hillsboro, Oregon.

Low Power Design Techniques for ASIC DSP Cores - funded by IBM's ASIC core group in Burlington, Vermont.

Schematic-driven analog layout - SDL analog layout package for Mentor Graphics tools funded under the Mentor Graphics Higher Education Program.

Low power library - Low power library for Mentor Graphics tools.

Microelectrode array - Integrated microelectrode array for in-vitro neural recording. Interdisciplinary activity between the departments of Biology, the Medical School, Computer Science and Electrical Engineering.

Embedded systems - entire industrial experience related to I/O subsystems, digital recording, real-time programming, hardware/software codesign, systems architecture.

Previous Courses:

Mircea R. Stan
University of Virginia
School of Engineering and Applied Science
ECE Dept., Thornton E209.