ECE News Spring 2012:
Harry Powell Works to Improve the Undergraduate Experience
---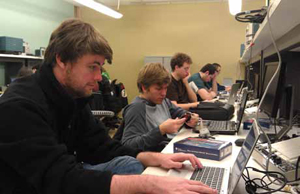 New instructor Harry Powell brings his many years of small-business experience to a course he and Professor Joanne Bechta Dugan launched this semester. The course focuses on embedded computer systems, and Powell hopes his "jack-of-all-trades" attitude that enabled his success in his family-owned machine design business will rub off on his students.

"Embedding computer systems is the art of putting computers in places you don't think of, such as in a key fob for unlocking car doors or in a microwave oven," said Powell. "As students design and program embedded computers, they will have to think about how their design will interact with external devices and their users."

Powell saw the need for the course while teaching fourth-years. "It became apparent to me that we needed an embedded systems course that, together with our major design course, would tie together a lot of second- and third-year concepts," he said.

What makes an embedded systems class different from other courses? Powell points out that a typical embedded computer has 400,000 times less memory and runs at 500 times lower speed than a desktop model. "The programmers have to think about how efficiently they write code and how they can best exploit the capabilities of the machines they are working with," said Powell. "At the end of the course, students should have the ability to program basic applications and understand the relevance of their coursework to circuits, electronics and signals."

Powell also wants the course to reflect his approach to engineering work. "A good engineer should be able to make a reasonable try at solving a challenge beyond their specialty," said Powell. "I've structured this course to encourage students to step out of their comfort zone — to poke around, to experiment." Providing undergraduates with a sustained, high-impact educational experience is an initiative of the School's Strategic Plan.

Powell reports an excellent student response to his new course. Enrollment was capped at 30, and "we're maxed out," he said.