ECE News Spring 2012:
Avik Ghosh Receives IBM Award and is Elected Fellow of the Institute of Physics
---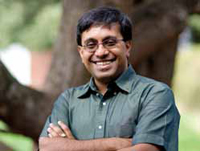 Associate Professor Avik Ghosh received an IBM Faculty Award and election as a Fellow to the Institute of Physics.

IBM Awards is a competitive worldwide program established to foster collaborations between researchers at leading universities and those in IBM research and to promote coursework and innovations in disciplines strategic to IBM.

Ghosh received the award for his research in multiferroics, a composite material that generates a stress and the ability to rotate a magnet when a small electric voltage is applied. Researchers believe such a rotation can be used to perform nanomagnet-based logic operations at lower energy costs than with silicon-based electronics.

"This research is of great interest to companies like IBM, as the energy costs of continuing to make electronic devices smaller and faster is becoming prohibitive," said Ghosh. He and his collaborators also won a competitive $2 million grant from the National Science Foundation and the Nanoelectronic Research Initiative, a partnership between the federal government and the semiconductor industry, in support of this research.

Ghosh is honored by his nomination to the Institute of Physics, an organization that works to advance physics research, application and education.