Keith Williams
Visiting Professor/Lecturer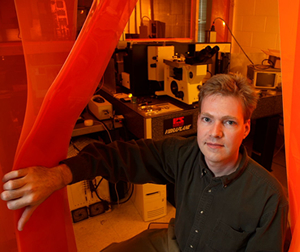 Contact
Thornton Hall E-204
351 McCormick Road
PO Box 400743
Charlottesville, VA 22904-1000
Phone: (434) 227-6122
FAX: (434) 924-8818
Email: kwilliams@virginia.edu

Office: Thornton E-204

Google Scholar Profile:
https://scholar.google.com/citations?user=PbfBJx8AAAAJ&hl=en
---
Background:
Dr. Williams received a Ph.D. degree in Physics from Penn State in 2001 in the area of nanomaterials physics. Following postdoctoral research in the area of molecular biophysics at the T.U. Delft in the Netherlands, Dr. Williams joined the UVa faculty in 2004. In 2010, he became a program manager and CTO for Leidos (f/k/a SAIC) at the Naval Research Laboratory in Washington D.C., where he currently oversees several large R&D contracts in the areas of engineering, chemistry and materials science. Motivated to re-engage directly with students, Dr. Williams returned to teach at UVa in 2011 while continuing his work for Leidos at NRL. He currently teaches introductory engineering and other courses at UVa.
Courses Taught:

ECE 4140 : Fundamentals of Nanoelectronics
ECE 5150 : Microelectronic Integrated Circuit Fabrication
ENGR 1620 : Introduction to Engineering
STS 2500: American Politics of Science
PHYS 1090 : Galileo & Einstein, History of Physics
PHYS 1610 : Calculus-based Physics, for majors
PHYS 582 / ECE 407 : Introduction to Nanophysics
PHYS 304 : Physics of the Human Body
PHYS 311 : Widely-Applied Physics - Energy Production & Storage
PHYS 142R : Calculus-Based Physics, for Rodman Scholars
PHYS 231 : Calculus-Based Physics
INST 263 : Intro. Traditional Black & White Photography
INST 287 : Local Foods: From Garden to Table
Research Interests
Nanomaterials synthesis and devices
Hybrid bio/nano materials and devices
Materials and systems for energy storage
Advanced lithography
3D printing
Experiential education for undergraduates
Entrepreneurship
Select Publications:
Jack Chan, Brian Burke, Michael Cabral, Chong Hu, Joe Campbell, Lloyd Harriott, and Keith A. Williams, "Tuning transport in carbon nanotube field-effect transistors by low-energy electron beam exposure and applied universal backgate" Journal of Physics: Condensed Matter 22(33) 334212 (2010).
Tsz Wah (Jack) Chan , Brian Burke , Kenneth Evans , Keith Williams, Smitha Vasudevan, Mingguo Liu , Joe Campbell , Avik Ghosh, "Multiple-Trap Correlations in the Room-Temperature Random Telegraph Signal of a Carbon Nanotube Field-Effect Transistor" Physical Review B 80, 033402 (2009).
Brian G Burke, Timothy J Herlihy Jr, Andrew B Spisak and Keith A Williams, "Deep-UV Pattern generation in PMMA" Nanotechnology 19 215301 (2008).
K.A. Williams, Peter T.M. Veenhuizen, Beatriz G. de la Torre, Ramon Eritja, Cees Dekker, "Carbon nanotubes with DNA Recognition", Nature 420(6917) 761 (2002).
K. A. Williams, B.K. Pradhan, P. C. Eklund, M. K. Kostov and M. W. Cole, "Raman Spectroscopic Investigation of H2, HD, and D2 Physisorption on Ropes of Single-Walled Carbon Nanotubes", Phys. Rev. Lett. 88(16) 165502 (2002).