Malathi Veeraraghavan
Professor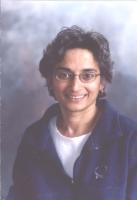 Contact
Rice Hall - 407
351 McCormick Road
PO Box 400743
Charlottesville, VA 22904-1000
Phone: (434) 982-2208
FAX: (434) 924-8818
Email: mv5g@virginia.edu
Home Page:
http://www.ece.virginia.edu/mv
---
Summary:
Connection-oriented networking; Airborne networks; Wireless MAC protocols; Bandwidth sharing techniques; Internetworking architectures; Protocols.
Background:
Malathi Veeraraghavan is a Professor in the Charles L. Brown Department of Electrical & Computer Engineering at the University of Virginia. Dr. Veeraraghavan received her BTech degree from Indian Institute of Technology (Madras) in 1984, and MS and PhD degrees from Duke University in 1985 and 1988, respectively. After a ten-year career at Bell Laboratories, she served on the faculty at Polytechnic University, Brooklyn, New York from 1999-2002. Her research work on optical networks is supported by NSF and DOE. She holds twenty-nine patents and has received five Best-Paper awards. She served as an Associate Editor for IEEE/ACM Transactions on Networking from 2006-2008, and as Technical Program Chair for IEEE ICC2002.
Research: See http://www.ece.virginia.edu/mv/html-files/research.html.
Most Recent Publications: See http://www.ece.virginia.edu/mv/html-files/papers.html